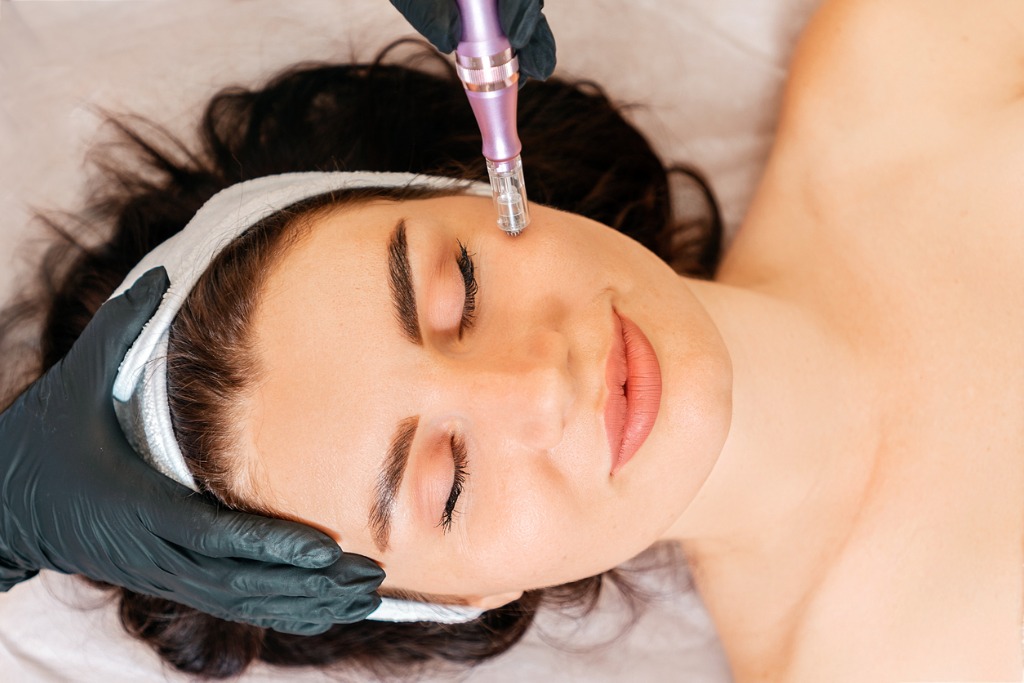 Vivace RF Microneedling: Everything You Need to Know
The Vivace microneedling system is the newest way of radiofrequency (RF) microneedling that's effective for skin tightening, treating fine lines and wrinkles, and improving skin tone. It's one of the most groundbreaking contouring and skin tightening systems not just for the face, but also for the neck, hands, and body that produces painless results.
This new treatment is safe for almost all skin types and offers the same results as fractional laser procedures, but with reduced downtime, discomfort, and other complications. It heats deeper tissues that result in higher collagen production, wound contraction, and elastin remodeling that was not attained with older technology. You'll see immediate results that will improve over time and you'll look and feel your best regardless of your age.
How Does It Work?
The Vivace uses microneedling and radiofrequency to heat the target area below the epidermis. Using insulated needles, it delivers powerful RF thermal energy in the dermis to create thousands of fractional coagulation zones, allowing a natural wound-healing process. This helps in the production of new collagen, wound contraction, and elastin remodeling that helps enhance skin laxity.
Due to the thermal energy delivered under the top layer of skin, there is a lower risk of complications with virtually no discomfort. While other RF microneedling devices can cause pain and uneven heating, Vivace's insulated needles and robotic step motor help create smooth insertions in the skin.
It also has chevron-pattern circuitry that lets the RF energy distribute heat evenly as it results in skin tightening. It reduces redness, burning, hot spots, and discomfort that can happen with other devices. Vivace's robotic depth settings feature 31 meticulous multi-level adjustments with 3.5 mm depth. It's more precise compared to other RF microneedling devices in the world.
It also features a variable pulse duration that means the period where the needle is penetrating your tissue can be controlled based on your skin profile.
Benefits of Vivace RF Microneedling
Vivace offers significant benefits in rejuvenating your skin in just a few treatments. It's less invasive than Botox and helps restore more youthful radiance.
Here are some advantages of getting Vivace RF microneedling:
Patients get optimal results in just three treatments
Most patients experience improvements in their skin tone, texture, and radiance after just a single treatment. After three sessions, you can achieve optimal results, unlike other microneedling treatments that require up to six sessions.
The treatment is virtually painless
Vivace features ultra-thin needles that make the treatment painless. It's designed for a comfortable experience for the patient, and its robotic motor is very precise compared to other devices. Before treatment, a numbing cream will be applied to ensure you stay comfortable.
Most patients experience a warm and slight pinching sensation. One treatment session usually takes about 30 minutes to an hour depending on the size of the area being treated. It usually takes 3 treatments, but your doctor can customize the treatment in accordance with your needs for optimal results.
Safe for almost any skin type
Vivace features 31 adjustable depths that provide flexibility in treating the skin. This means that Vivace RF microneedling can treat a broad range of skin types and tones with precision. It works by triggering the body's natural response to healing wounds, as opposed to applying chemicals or heat that can be destructive for some patients.
It's great for minimizing stretch marks and acne scars
Vivace features collagen-building effects that will eliminate the appearance of stretch marks and other flaws like acne scars. It helps to restore a smoother skin tone while also firming the thinner skin on the hands, chest, and neck.
There's no downtime
You'll experience little to no bleeding during the Vivace treatment. Its built-in LED light therapy also helps minimize redness after the treatment.
Vivace RF Microneedling Aftercare
Here are some important tips you should follow after a Vivace RF microneedling treatment:
After the treatment, your skin will be flushed and will look like you've had a moderate sunburn. You may also experience mild sensitivity and skin tightness. The redness is expected to reduce after a few hours and your skin will be calm in 24 hours.
Within two days, you can experience skin dryness or flaking due to the turnover of skin cells. It's recommended to apply a moisturizer during this time.
You may also experience slight bruising around the eyes that can last for 3 to 4 days. However, you can cover it with make-up.
It's not recommended to take anti-inflammatory medications like ibuprofen as it can interfere with the inflammatory process. This process is important for skin rejuvenation.
To lessen the risk of blistering, don't exercise for 24 to 48 hours after the procedure.
After treatment, use a mild soap for cleansing and gently pat dry. You can use a moisturizer if it feels dry. Avoid activities that will heat up your skin such as taking hot showers, strenuous exercises, and relaxing in saunas or hot tubs.
Continue using moisturizers and avoid rubbing, scrubbing, or using exfoliants for at least a week. The day after the treatment, you can use makeup if needed and it's recommended to apply sunscreen daily.
Keep the treated area clean and avoid excessive alcohol consumption, swimming, sweating, and smoking.
Make sure your skincare products are non-clogging and non-irritating. You can also apply a vitamin C serum to help with healing.
For the first week, your skin will be sensitive. Don't use products that can cause irritation like retinoids, toners, scrubs, or bleaching creams until your skin is healed, or unless directed by your doctor.
Sunscreen is very important to avoid sun damage and discoloration while your skin is healing. Use sunscreen every day for about 3 months after the treatment, though it is highly advisable that you include sunscreen in your regular skincare routine.
If you notice any blisters, pimples, bleeding, pigment changes, bruises, or any problems, contact your doctor as soon as possible.
Professional Skin Rejuvenation Services
Vargas Face and Skin Center offers the latest breakthroughs in non-surgical skin treatments. You'll get thorough assessments to address your specific concerns. Each treatment is done with great precision by dedicated professionals that will result in fully rejuvenated skin.
Book an appointment with us today by calling 913-381-4900 or filling out our online form. We are also able to provide virtual consultations.