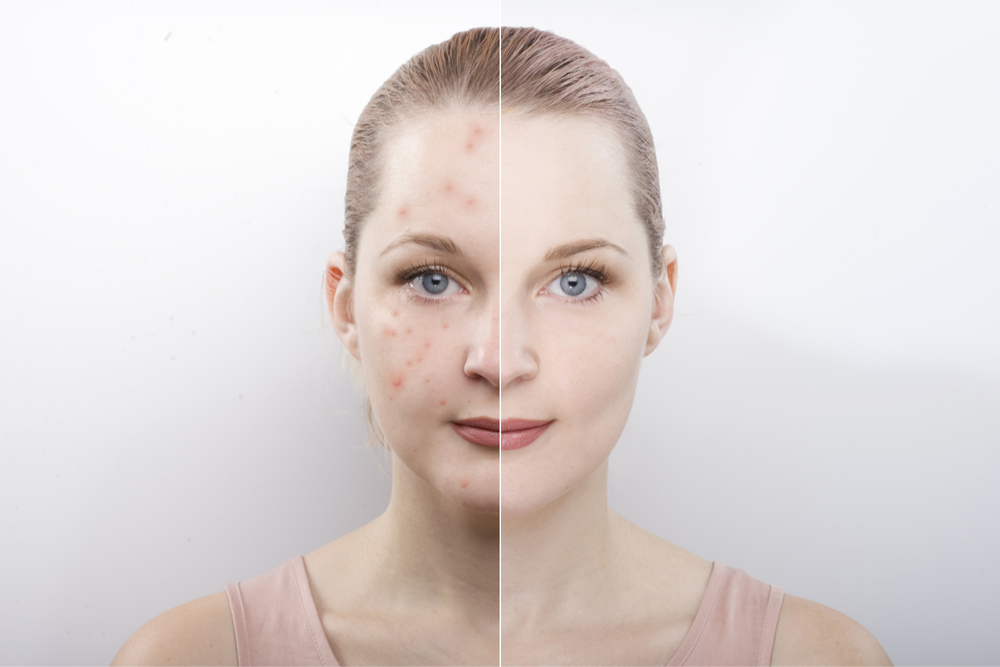 Having acne is an extremely common problem. It's estimated that 85% of people experience a break out at some point in their life. Even after the acne clears, it can leave behind unsightly scarring that hurts self-confidence. Fortunately, there are a number of ways to treat and remove acne scars for good.
Laser and Chemical Peels
Micro Laser Peels: Micro laser peels are a non-invasive way to help boost collagen production which results in improved skin texture. Micro laser peels remove dead skin cells from the top layers of skin for a noticeably rejuvenated look, and the level of intensity can be customized depending on how severe your acne scarring may be.
Chemical Peels: Again, depending on the type of scarring you have, chemical peels offer a wide variety of options to suit your needs, whether it be light, medium or deep. Chemical peels use a chemical solution (like hydroquinone, TCA, or Glycolic) and are applied to the face to gently slough off skin cells. You'll notice the immediate improvement to the overall texture and tone of your skin. After as many as five treatments, your acne scarring will reduce significantly.
Halo Hybrid Fractional Laser: The Halo Hybrid Fractional Laser is an innovative tool that we have found significantly reduces the appearance of acne scarring. The laser can reverse years of scarring by targeting deep within the skin to precisely and accurately treat the areas that need the most help. Halo uses a technology that goes below the skin's dermal layer to help resurface and improve the look of severe acne scarring. The best part is you'll feel nothing but a warm, comfortable sensation as you undergo this treatment.

Light Therapy and MicroPen Treatments
Light Therapy: Light therapy treatments like BroadBand Light (BBL)or SkinTyte are popular scar-reducing methods because they are non-invasive and have no downtime at all. By utilizing rapid pulses of high-intensity light, BBL therapy stimulates new collagen growth in the deepest layers of the skin to assist with your skin's healing process, while simultaneously hindering the sebaceous glands from over-producing the oil that can cause new acne to form. SkinTyte, meanwhile, heats deep within the skin while providing a cooling effect on the top layer for similar results.
MicroPen Treatments:

The SkinPen is a micro-needling tool that breaks up pigment and causes what professionals call "micro-injuries" to the skin. This stimulates the generation of new collagen so that the skin will start to heal, effectively removing the appearance of scarring. It's a very low-risk treatment with very little downtime. After as little as 24 hours, your redness will have disappeared, and you'll start to notice smooth, scar-free skin in no time. We recommend four to six treatments spaced no later than a month apart to see the best results.
Injectables
BellaFill:

BellaFill is a

non-resorbable dermal filler that helps fill and smooth pitted scars left behind by acne. The filler is composed of small polymethylmethacrylate (PMMA) microspheres that have the ability to mimic the body's collagen. The PMMA microspheres form a support matrix beneath the skin's surface to smooth away the appearance of acne scarring. Currently, BellaFill is the only filler approved by the FDA for moderate to severe facial acne scars.
Botox: Undoubtedly, the muscle relaxer Botox has become the choice for preventing and reducing wrinkles, but it also improves the appearance of acne scars. Injections of botulinum toxin A produces smoother, flatter scars. Also, Botox injections have been shown to prevent acne scarring in people who currently have acne by reducing the body's sebum buildup that can clog pores.
If acne scarring has affected your skin, you don't have to suffer any longer! No matter the condition your skin is in—whether you're in need of light, medium or deep treatments — the highly trained and helpful specialists at Vargas Face and Skin Center can recommend the right treatment to reduce the appearance of your acne scars.